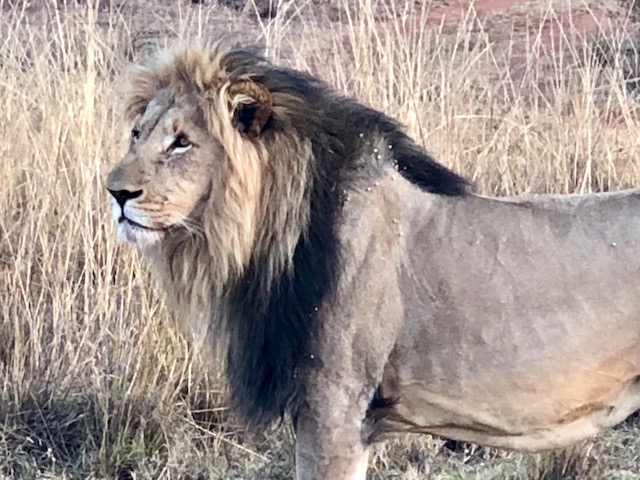 July 4, 2018 8:27 pm
Thieves and roaring lions! If I had a file categorizing my trips, The Big Five Marathon would certainly be classified under the "adventure" tab.
I recently just got back from the Big Five Marathon in South Africa. It was an experience I got to spend with two of my kids, Madeline and Harrison, and as you can tell, by this blog's introduction – we made lots of memories.
The South Africa trip was a surprise 48th birthday gift from my husband – 11 months ago. (You need to book that far in advance because they do sell out! Thank you, Allen, for your foresight.) I had already run a marathon in Africa, but I was thrilled with his gift choice. It was a race and experience at the top of my wish list. As I wrote in my book, my prior African trip and marathon in Victoria Falls, Zimbabwe had been one of my favorite trips of all time.
This trip sounded even more exciting than my previous experience. Not only would I be doing the Big Five Marathon, but Allen's hand-picked experience also included safaris – lots of them. Allen couldn't join me on this trip, and I decided to take two of my kids – the two who had no major obligations this summer: Madeline (age 19) and Harrison (age 9). I knew Madeline could watch Harrison while I ran the marathon. I also knew the sights we would see in Africa would be an unforgettable learning experience for both of them. Little did I know that I would end up sharing just as many learning experiences with my kids – perhaps even more?
But, who knew that first "unforgettable learning" experience would be in the airport as soon as we landed in South Africa?  Like I always do upon arrival into a foreign country, I marched right over to an airport ATM to withdraw some local currency. (I've been told that a local ATM is the most economical way to exchange currency. You pay fewer fees than exchanging the money at an exchange bureau.) This time, however, when I walked up to the ATM, I had a surprise waiting for me.  And, no, the surprise was not a declined bankcard. As I was punching in my transaction, a man approached on my right side. He offered to help. Never in any of my travels has anyone ever offered to help me during an ATM transaction, and the feeling I had in the pit of my stomach was not a good one. I politely told the man that I didn't need help, and I grabbed my card out of the palm of his hand.
As he explained to me in a firm voice that he wasn't trying to steal my card, he was only trying to help, he quickly walked away. At that point, I felt a little bad for assuming he had ill intent. Granted, I had just walked off one of the longest flights in the world: Atlanta to Johannesburg (14.5 hours), and my judgment was a little cloudy. When a second man approached my side as I was trying to proceed with my ATM transaction, I was still trying to process what had happened in the first encounter. This man was quicker and more forceful. In an effort to "help me", he pushed a button to cancel my transaction, all while forcefully taking my card to try to show me how to "correctly" put it in the machine. In a flash, he had taken off with my card, calling over his shoulder that my card was in the machine. I was a little stunned by both encounters. I looked at the machine and then turned back to look at him. He was gone. As a matter of fact, both men were completely out of sight.
Madeline and Harrison had been standing near me the whole time. They were not even aware of what happened. It all occurred so quickly. We set out together to look for airport security. I learned one positive thing about Johannesburg Airport that evening. It has a lot of security, in the form of legitimate South African police.
We were able to find a policeman in minutes. Luckily, he took my plight seriously. Noticing my state of panic, he first made sure I had called my bank to cancel my card. (When I made this call, I learned the thief had already made a charge with my card – in a matter of minutes.) The policeman then led us to the airport police station where we spent over an hour reporting the crime. Not the way the three of us thought our grand African adventure would start!
About halfway during our time at the police station, officers brought in a suspect they rounded up somewhere in the vicinity of the airport. They asked me if I could identify the man as one of the perpetrators. I felt very uncomfortable and surprised by this sudden turn of events. Then, the situation escalated. The victim started yelling that he had no idea why he had been apprehended. At the same time, I was being forcefully being talked down to by a policeman. He was telling me to hurry and identify the man so that he could arrest him.
I was a little stressed out, to say the least. But my kids were trying not to laugh about the absurdity of what was unfolding in front of us. In the end, I told the policeman that I could not identify the man with 100% certainty. This was the truth. I didn't get a good look at either man, and this person definitely had on different clothing.
Once we were finally released from our wonderful "welcome to South Africa" party, with a copy of the handwritten police report, my kids and I made our way to the airport hotel to get – hopefully – one night of good rest before we were to catch our tour bus the next morning. Our airport hotel, City Lodge Hotel, ended up being the most comfortable stay of our whole trip. This was the second time I had stayed here. The flights from the USA arrive in Johannesburg in the evening, making it difficult to catch same day transfers to other parts of Africa. So, we got a pretty good night's rest before joining the marathon group. Thank goodness! After the ATM incident and the long flight before that, it was much needed.
Several hundred people from around the world run The Big Five Marathon and Half Marathon every year. Most of these participants are shuttled by coach bus from the airport to Entabeni Game Reserve, a four-hour drive from Johannesburg. There are five places to stay either within the game reserve or right outside of it. They vary is price – and in comfort. Racers can select where they want to stay based upon their budgets and tastes. Of the five choices, I picked a tented camp within the reserve. The camp has no barriers (i.e fences) between the tents and nature (i.e. – lions, elephants, and all sorts of critters). I think my original thought when choosing the Wildside Camp was that it would be more of an authentic bush / safari experience.
This decision proved to be my best one of the trip. We had an absolute blast with our Wildside camping adventure, even though the Walkers will never be confused with a "camping family." Allen and I are in agreement that we would much rather stay in hotels than camp. But like I said, I thought being in a tent in Africa would be a unique experience worth pushing the boundaries of my comfort zone. (Thank you, Marathon Tours, for suggesting we stay here.)
I did pick the "luxury" camp option, but that description only loosely fit our quarters. For example, there was plumbing, but the toilet was pretty much out in the open in the middle of the tent. There was also a shower within the tent for us, but the kicker is that it was technically outdoors. I would not suggest these tented camps for a romantic vacation or honeymoon, but for this adventure it was perfect. I admit, though, I am not clamoring to duplicate the experience anytime soon.
Also, June in South Africa means it's winter. It gets very cold at night, usually down to the 40s or upper-30s. There was no heat in the tents. Getting out from under the electric blanket in the mornings took some motivation. Those 6:30 am game drives that are included in the camp stay are rather brisk – to put it mildly. Getting ready for them in a dark, cold tent had its challenges.
When we arrived at Wildside Camp, the staff, including our camp leader, Lena, warmly greeted us. The camp staff impressed all of the guests, calling us by name upon our arrival. Since there are only 15 tents within the camp, the staff had taken the effort to learn our names even before we arrived. It was a pleasant surprise.
Before being shown our tents, we were given the rules of the camp: We had to have a camp ranger escort us to our tent after dark. (There was no telling what animals could be lurking around the tents.) Also, an air horn was placed in each tent in case of an emergency. There was no other way to get in touch with the camp employees once you were in your tent. (There was no phone, no Wi-Fi, nothing.)  I actually had to use the horn later in the trip, but I will save that "learning experience" for Part 2.
During our orientation, we were also introduced to the daily camp schedule. Lena wrote the times of all activities on a big paper chart, located in the open air "lobby". Meals were held at scheduled times in a family style dining room. This dining setup, as well as the game drives, turned out to be a great way to get to know our fellow campers. It ended up being hard to say goodbye to our fellow camp members and camp staff by the end of our six-day stay. It's easy to get to know people when you're camping together in Africa.
The first two full days of our time at Wildside were devoted to the marathon. (This is something to take into consideration if you are considering bringing spectators on this trip.) We spent one full day gathering with all of the other runners and spectators from the other camps and lodges in the area to drive the race route. This racecourse preview drive ended up taking over three hours. And we did not deviate from the marathon route! The course is that challenging!  It took all of the might of the 4-wheel drive Land Cruisers to complete the course. At the end of the drive, the fellow passengers and I joked that we deserved a medal just for finishing the course preview. We had no idea it would take that long! (And I felt a little guilty for having Madeline and Harrison sit through that long ride. But there was no other option for them, as they were not allowed to stay at the camp alone.)
Just take a look at the course elevation profile.
During this preview, I also began to worry about my kids waiting for me while I was completing the race. If it took an all-terrain vehicle this long to drive the course, how long would it take me to run it? My kids were already starting to fight with one another – even at this early stage of the trip, and I wasn't sure I felt comfortable leaving them as spectators. Who knows what would happen during those hours alone? I wasn't worried about their safety, just their sanity.

Those of you with families can probably relate when I say…. Being able to share a race destination with your family is a wonderful gift … and an added stressor. If you did not know this about me, I'm a self-described worrier. I think it helps me be a good mother to my six children, but sometimes it's a curse. I went to bed the night before the race hoping that Madeline and Harrison (and I to a lesser degree) would enjoy race day. It was a restless time in my tent.

Tags: Big Five Marathon, Lions, marathons, Michelle Walker, running, South Africa


Categorised in: Uncategorized

This post was written by Michelle Walker