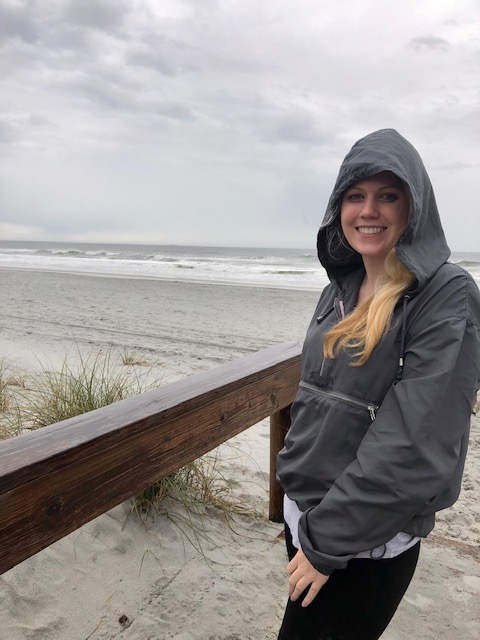 December 27, 2018 2:32 am
Gift giving is my love language. There is nothing that makes me happier than bestowing gifts upon the people I care about. I enjoy putting thought and money into the gifts I give, and I'd much rather give than receive. A good, admiral quality, right?
The caveat is … I don't like to be out gifted. Chalk it up to my competitive nature. And, of course, I have been out gifted many times in my life. The most recent time happened earlier this month. Naturally, this story started at the finish line of a marathon.
In mid-December, I finished up my 2018 racing season at Jacksonville Marathon in Florida. I was fortunate enough to have my oldest daughter, Kelsey, join me for the weekend. Despite the heavy rain, we made the most of our weekend together. Kelsey, a senior in college, had just finished her finals and was happy to sleep in while I ran the actual race.
I had no time goal going into Jacksonville Marathon. Though I secretly wished for a Boston Marathon qualifying time, Florida is not one of the four remaining states I need to complete my final running goal: a Boston qualifying time in all 50 states. So, I was as relaxed as possible (for me) going into this race. There was no self-imposed pressure to make a certain time. When I crossed the finish line with a time of 3:59:03, I was happy. Though not the current time standard I need for an entry into the holy grail of marathon races, Boston, I am always satisfied with a sub 4-hour time, especially on the way back from my injury.
At the finish line, I was greeted by some of my long-time marathon friends from around the country: Lisa, Mark, and John. These three are nothing short of amazing. They are all fast, and they have all completed marathons in all 50 states. Mark who has completed all 50 states with marathon times faster than 3:30, finished his 250th marathon in Jacksonville (with a time less than 3:30). John, who has done the 50-state circuit three times, completed his 198th marathon that day. It was only my 160th marathon (Ha!). I'm a marathon novice next to them.
What was most memorable to me about Jacksonville Marathon was the conversation at the finish line. There are only a handful of people who "get" what I'm trying to achieve – and these three are among them. A certified Boston Marathon qualifying time in all 50 states is my ultimate goal. When I was sidelined with an injury about a year and a half ago, I had completed the necessary time requirement in 46 states. Since returning to running post-injury, I'm still stuck on 46, as I mentioned before. It has been especially frustrating because I've gone to those four states multiple times and failed. Lisa knows this. She has also noticed that I went back to one of these states (Pennsylvania) twice in the last three months and missed my time requirement by less than five minutes.
So, at the finish line, my friends asked me if I have heard of the Nike Vapor racing shoe. Lisa was wearing a pair in Jacksonville, but I really knew nothing about this particular shoe. Lisa and Mark insisted that these shoes could possibly help me shave off the few minutes I desperately need in those last four states.
My philosophy has always been once you find a running shoe that works for you, stick with it! I have been wearing a Brooks support shoe, the Transcend, for years. However, I was intrigued by the Vapor. Maybe it is time to shake things up and try something new. Perhaps, the Vapor would be the key to the completion of my goal. I started to research the Vapor online. I learned quickly that this is an "investment" running shoe and decided to put the thought of trying out this shoe on the back burner until I got through the Christmas gift giving season.
Jacksonville was the jolt I needed to get me excited for 2019. I made plenty of memories with my daughter and my running friends, and my time was one I could build on. After a blah year of running and racing results, I was a little refreshed. All would be fine and dandy, if my Jacksonville Marathon story ended here. But it doesn't.
Two days after my return — just a week before Christmas — I received a big surprise. A mysterious package from EastBay arrived at my door. When I opened it to find a pair of Nike Vapor racing shoes in my exact running shoe size, I was confused, no, stunned. It took me a while to figure out that, yes, these shoes were intended to come to me, as well as who the sender was. I had been out gifted. Actually, I would classify this gift as one of the bigger surprises I have had in my life.

You got me, Lisa, but thank you. The Vapor really is a magical pair of shoes. They fit like a glove and feel like I have springs underneath my feet. But, most of all, thank you for believing in me and my dream. Just when discouragement was getting the best of me, I now have a little more energy and a lot more hope of going fast. It's just what I need to knock out those last four states left so I can say I have completed my quest for those Boston Qualifying times in all 50 states.

Thank you all for following me this last year. Here's to hoping all your 2019 dreams come true. I am going to try my best to run and catch mine.

Tags: Florida, Jacksonville Marathon, Kelsey, Marathon, Marathon Mom of 6, Michelle Walker, Nike


Categorised in: Uncategorized

This post was written by Michelle Walker