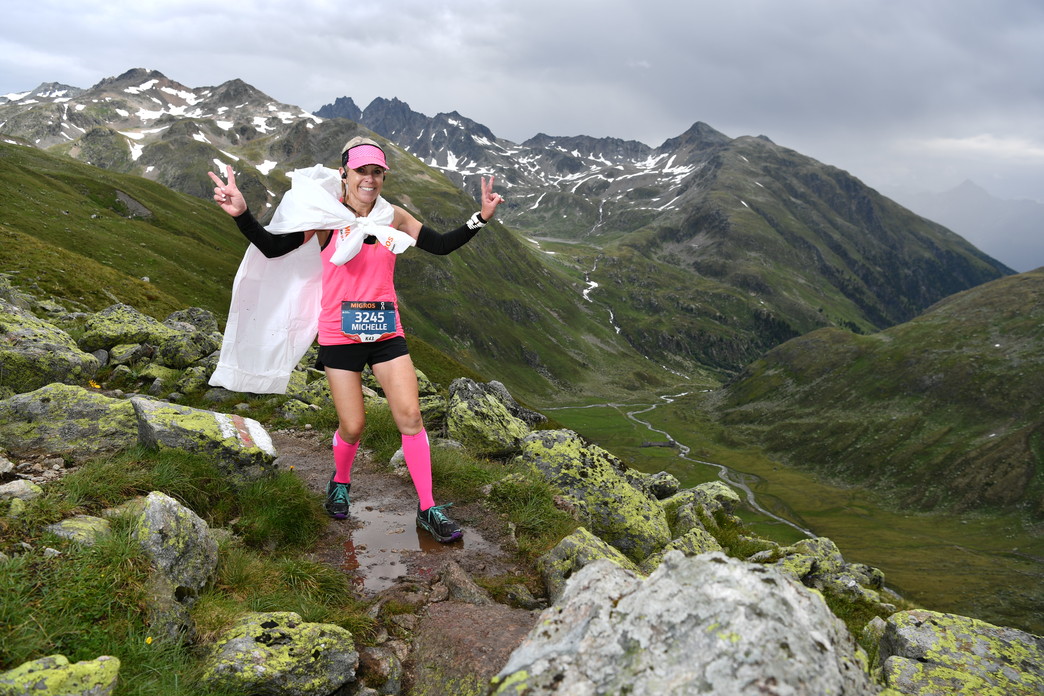 August 4, 2019 6:35 pm
It might have been the AARP application I got in the mail that sent me over the edge. I'm not sure why, but in true Mom o' 6 fashion, I spent most of the last year apprehensive about my impending 50th birthday.
It's not that I consider 50 old, per say. It's more of a mental hurdle. I'm stepping into an older, middle-aged category. My problem is ~ I still feel the same as I did in high school. My spirit remains unchanged. However, even though I'm in much better shape now than I was in my teens, 20s, or 30s, the fact of the matter is — my body is indeed aging. Time is undefeated, they say.
A year ago, I confided in my husband, Allen, that I wanted to do some sort of "epic" athletic adventure to commemorate this milestone birthday. (That's how much it was weighing on my mind. Lots of you know I'm certainly more of a giver, and I do not like to bring up wishlist trips or goal races.) I am fortunate that Allen enjoys travel almost as much as I do, and that he encourages me to aim higher in my athletic endeavors – literally.
After scanning various race schedules, we agreed on the perfect marathon / family summer vacation trip: the SwissAlpine Irontrail Marathon in Davos, Switzerland. This race starts at almost 5,000 feet above sea level in the stunningly beautiful ski village of Davos (the highest city in Europe). The course quickly ascends another 5,000 feet, up and over the tops of two snow-covered peaks. The route then descends down the mountain and finishes back in the charming city of Davos.
Sounds pretty simple for a flat lander, non-trail runner from Indiana, right? Ha! Not really, but this was just the sort of epic adventure I was seeking to celebrate the big "five-oh."
The SwissAlpine Irontrail Marathon course is 95% trail, at least that's how I'll remember it. And by "trail" I do not mean the well-manicured, gentle on your joints, just off the paved street type of trail. The route was very technical. When I say we ascended two mountain tops, I mean we climbed more than we ran. In fact, my brain worked just as hard as my muscles in order to cross the following over the 26.2 miles: long stretches of snow on an incline, fields of boulders, rushing streams, and rocks that protruded out of the ground.
Again, I'm not a trail runner. To a paved-road runner like me, this race was basically a very long obstacle course. The difficult terrain combined with the little oxygen at this high altitude made the SwissAlpine Irontrail Marathon the most challenging race I have ever completed. (Yes, I am including my six full Ironman finishes, plus Antarctica, in this assertion!)
When I crossed the finish line, my hands and knees were bloody from three falls during the race. I spent 10 minutes in a medical tent during the race, getting my wounds cleaned. There must be an art to trail running ~ a skill I have yet to learn. However, my finishing battle scars were worth experiencing the once-in-a-lifetime views.
Out of my 171 marathons finishes, this one was also the most beautiful course so far. In my travels around the world, I have never seen beauty that rivals the majestic Swiss Alps. The course varies greatly, starting with vibrant-green pastures dotted with Swiss chalets and crystal-clear mountain streams. The scenery, altitude, terrain, and climate quickly change, as participants ascend and then descend the jagged mountain peaks. The mountains were covered with snow, glaciers, waterfalls, and boulders of all sizes. The sights were surreal. I truly felt like I was in a fairytale land; both while running on the course and exploring the countryside with my wonderful family.
I can't help but relate my Alpine Irontrail experience to an act in which I am very well versed, parenting. Lots of us know that the role of being a parent is so wonderful, but like the Irontrail, anything but smooth. Often, I feel so overextended and deprived of oxygen as a parent that I fail to appreciate the beautiful family with which I have been blessed. If you've read my book, you know how far I take that struggling for oxygen metaphor when it comes to raising a family. You may also have noticed how important running (my oxygen mask) is when it comes to helping me balance it all.
Rather than enjoying my journey as a mother, I'm often trying to prevent myself from falling – or making mistakes as a parent. My perfectionist tendencies come with a high cost: self-imposed worry and stress. During my Swiss Irontrail run, I shed plenty of tears just trying to simply make it to the finish line. The same is true as I navigate through the frustrations and obstacles that are thrown out at me during the journey of parenthood. Parenting is absolutely amazing, but there are plenty of obstacles, stumbles, and challenges along the way.
After all, the most beautiful and rewarding things in life are the most challenging.
Ready or not, I have stepped into a new season of life: my 50s. I have decided to adopt the motto of a good friend for this new decade: "older, faster, stronger." I'm not slowing down or lowering my standards because of my age. Creating and achieving new fitness goals is my passion, and it provides me with a steady stream of oxygen, no matter how tough the mountain trail of life becomes.
One thing I will do a little differently, now that I'm a little older and wiser, is to take time to enjoy the view. After all, Ferris Bueller tried to convince us to do exactly that more than 30 years ago. But it took a dreaded birthday and great race experience to reinforce to me that sometimes it's okay to slow down.
As they say in Davos, "Danke" to the SwissAlpine Irontrail Marathon, as well as to Allen and our great kids, for an experience and lesson of a lifetime!
Tags: Alps, Davos, Marathon Mom, Michelle Walker, SwissAlpine Irontrail Marathon, Switzerland, turning 50


Categorised in: Uncategorized

This post was written by Michelle Walker