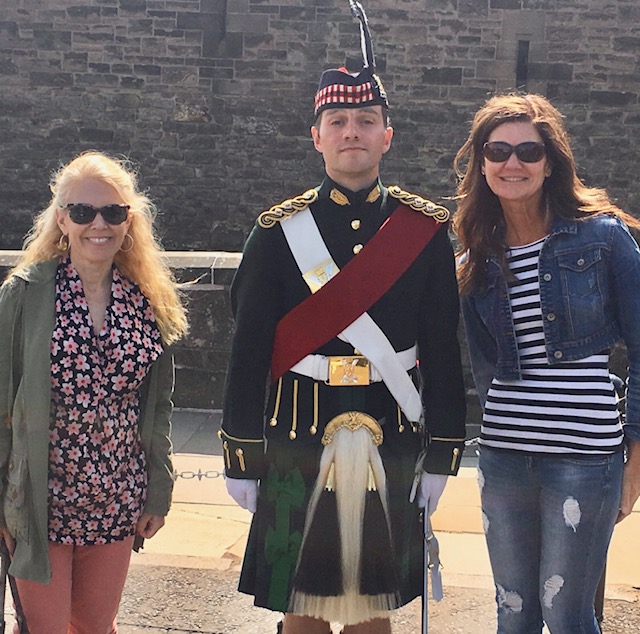 May 30, 2018 11:35 am
It goes without saying that I have been blessed to be able to travel all around the United States and the world. There have been a lot of flights through the years, but there has only been one other time when I had to use my athletic skills to sprint across an airport to catch a flight.
My recent trip to Edinburgh, Scotland was time No. 2.
The day before my trip, I noticed I only had 50 minutes between my flights, but I convinced myself it was not going to be a big deal. After all, the airlines have assured me in the past, "We wouldn't book you with a tight connection if we didn't think you could make it." I'm so thankful the airlines are looking out for my wellbeing. (Wink! Wink!)
But in all seriousness, I've had 30-minute connections go smoothly, so I wasn't too worried. That is, until I got a notification the next day that my first flight was going to be delayed a half hour. That's 30 minutes, and 50-30 is 20. Yikes! I would only have 20 minutes to connect to my international flight.
After calling the airline to see if I could rebook, they advised me to go on to the airport and settle matters there. They didn't see any other good flight opportunities for the rest of the day. They somehow were under the impression the airport ticket agents had more knowledge than they did. (Okay?)
At my local airport, the ticketing agents worked hard to reroute me so that I could make it into Scotland. They agreed that there was no way I could catch my next flight once I landed in Chicago O'Hare though. They advised, however, that I go ahead and fly to O'Hare. Since it is a bigger airport, they could more easily reroute me there – the following day. (Seriously?)
I was just going to be in Edinburgh for a short time, just a long weekend, and I did not want to burn up one of my valuable days in Scotland by sitting or possibly even sleeping in an airport in the USA. This did not sound like a good plan to me, but I went along with it. There was nothing else to do.
Of course, I was not the only one on my flight to Chicago in the same predicament. There were two other passengers who had different international flights leaving close to the same time as mine. We could tell we were in the same situations by the look of panic on our faces. As soon as the plane pulled up to our gate, I, along with two other passengers, bolted out of our seats and to the door of the plane. We all apologetically explained our plight to the other passengers. As soon as the plane door opened, in an act of solidarity, we looked at each other and shouted, "Run!"
My training paid off that afternoon. Weighed down by a heavy backpack, I still managed to weave my way through the crowds. I arrived at my international gate at the very last minute. The plane had completely boarded. The gate agents were literally calling out my name. I profusely thanked the agents for waiting for me. I explained I was going to Edinburgh to run a marathon. They joked with me, saying, "Well, that must have been a good warm-up."
As I walked to my seat, sweat dripping down my face, I offered up a simple prayer, thanking God I made my flight.  I was sure there was no way my luggage would arrive with me, but I didn't care. I had packed my running clothes in my backpack (a lesson I learned after a disastrous trip to Paris –which you can read about in my book). My race times may not be improving, but I am becoming a smarter traveler.
I've had just a handful of trips that flow miraculously well from start to finish. My trip to Scotland was one of these trips — not counting that airport sprint, of course. When I arrived in Edinburgh, I walked to the luggage carousel. Surprise! My large, red suitcase was one of the first to have been unloaded from the plane. It was a trans-Atlantic miracle.
My trip continued with a fun taxi ride to the city center. I had booked a hotel on the iconic Royal Mile, a very touristy but important historical part of Edinburgh. My driver, who had a thick Scottish accent –so thick I had trouble understanding him- teased me that I was pronouncing "Edinburgh" like a German.
Apparently, the correct pronunciation is "Edinbraw." He is exactly right. That is how the Scottish say the name of their capital city. Now, I'm wondering how I should pronounce the town in which I live in – Newburgh, Indiana. Should I be saying "Newbraw"?
Just a little joke. I'd get some funny looks if I did that. I guess my fellow Hoosiers and I are pronouncing Newburgh the German way. (Ha!)
After checking into my hotel, I set off to find my pre-booked tour: The Secrets of the Royal Mile. Thankfully, everything in the area was within walking distance. Edinburgh is not as big as I had imagined it to be. I would almost call it quaint. I was so impressed with the tour that I booked another tour for later in the evening: a ghost tour that included a trip into the underground vaults. These vaults, all connected by tunnels, are extensive. They lie beneath the Royal Mile. The vaults were only discovered about 350 years ago but had been used as hideouts for Royals and bad guys alike, closer to a thousand years ago. (I wish I had taken more world history classes when I was younger. I'm completely enthralled by the history of Europe. Just some friendly advice, kids.)
The following morning, I did two more tours: an early morning running tour of the city (probably my favorite tour), as well as a tour of the Scottish Museum. After these tours, I met up with some friends from my hometown in Indiana. Like me, this couple was flying in to experience Scotland and run the marathon. We had planned in advance to stay in the same hotel and to do some sightseeing together. A trip is always more fun with the company of good friends, and I'm so thankful the McMillens came on this trip. They are a dynamic couple whom I admire greatly. They have been married 28 years and still seem to be head over heels in love –almost like giddy teenagers – all these years later. I'm also quite fond of them because we share the same passion for travel and fitness.
Safe to say, the McMillens' arrival into "Edinbraw" took the fun factor of my trip up quite a few notches. We shared a wonderful afternoon exploring Edinburgh Castle and eating dinner together. My most memorable time spent with them, however, occurred on an excursion we did the following day: an all-day trip to St. Andrews and Fife. This trip, as well as our tour guide, Ewan, did not disappoint. The scenery in the coastal towns that made up our tour surpassed my wildest expectations.
When we returned to the Edinburgh city center after our day long adventure, we decided to eat a pre-race dinner together in a local pub on the Royal Mile and then said goodnight. We all needed to get to bed early. The next day was race day – the 2018 Edinburgh Marathon – the reason (or excuse) behind our trip. Although the marathon did not start until 10 a.m., (which is typical European late race start fashion), we were all feeling a little off in our adjustment to the six-hour time change between Scotland and Indiana. A good night's rest before the race was very welcomed and needed.
The racecourse turned out to be spectacular, in line with the rest of this great trip. It's now one of my favorites. The race starts in the city center and goes out to the coastline. Most of the course is run along the coast. Runners are treated to views of waves crashing against jagged rocks and stretches of yellow, sandy beaches. A cool ocean breeze made for ideal marathon running conditions. (Certainly, better than two of my races earlier this year.) It is a point-to-point course, and runners are bused from a coastal town back to the city center at the end of the race. (The logistics of this bus ride back was my only complaint about the race. Runners have to walk about a mile from the finish line to catch these buses back. It took me more than an hour to get back.)
As I made my way back to my hotel, I felt happy – deeply satisfied. Though my race times still are not quite where they were before my running hiatus due to my injury, they are headed in the right direction. My 4:08 finish time was my fastest since my return to running. I'll happily take it.

But even more important than my finish time, was the whole overall experience. Once again, I would like to thank my husband, Allen Walker, for this wonderful gift of an unforgettable trip and race. Forever, I will remember the great country of Scotland; its lovely people; and my run along the spectacular coastline.

Tags: Edinburgh Marathon, EMF2018, marathons, running, Scotland, St. Andrews


Categorised in: Uncategorized

This post was written by Michelle Walker