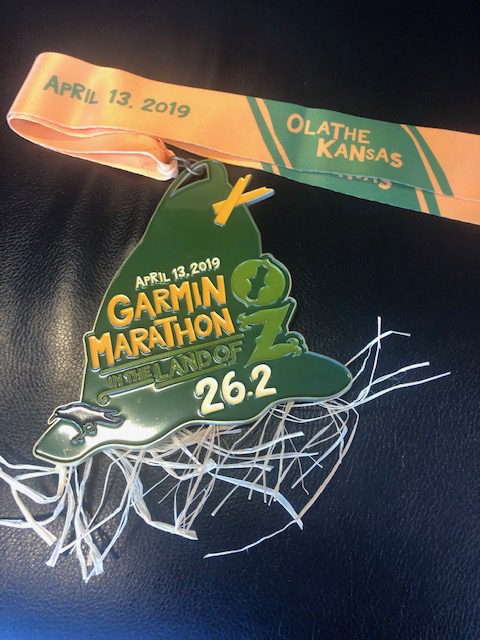 April 17, 2019 9:09 pm
"Nothing's impossible, if you just put your mind to it." -Oz
"This is a wildcard," I said to Heather Zeigler, one of my running club friends. I was in Olathe, Kansas waiting for the start of the Garmin Marathon in the Land of Oz, when I bumped into Heather. She was there to pace the 4:30 group. Heather is an amazing runner with a long list of accomplishments, and I was glad to see her. This was going to be a big race for me.
Like the name suggests, the Garmin Marathon in the Land of Oz carries a Wizard of Oz theme. It's a well-established and extremely well-organized venue that is very popular. Now in its 17th year, the race, which is also a half marathon and 10K event, hosts about 4,300 runners from all 50 states. Many of the runners and race organizers get into the Wizard of Oz spirit by dressing in costume. You even get an Oz-themed medal and shirt to remember your journey down the yellow brick road.
Normally, I would've been in costume too. I like to make running and racing as fun as possible. (Let's face it. If you're pushing yourself over a long distance, a positive diversion – like people cheering for the costumed runner – is welcome!) But I wasn't running the race under normal circumstances. My game face was on. I needed to cross Kansas off my list. The Sunflower State was going down! It was just one of three states in which I did not have a Boston Qualifying (BQ) time. I've been chasing this goal longer than Dorothy and friends spent journeying to find the Wizard, the wonderful Wizard of Oz!
All joking aside, my confidence in my ability to post a marathon time below 3:55 (in a not so flat part of Kansas) was basically zilch. I felt more like the Cowardly Lion standing at the Garmin Marathon starting line than a strong runner. My recent race times had been all over the map since returning from my injury. To make getting a BQ time in Kansas even more of a gamble, I had just run Rome Marathon six days prior. I hadn't even adapted to the time change. But … I already had this marathon in Kansas scheduled and paid for long before my thoughtful husband gifted me with my fabulous Rome trip. Even though I was having doubts, my family was all about me conquering Kansas ASAP, so I was at the starting line, hoping to cross off State No. 48.
Despite my insecurities, my race went very well. Maybe I should have heeded the words of Glinda, the Good Witch, when she said to Dorothy, "You are capable of more than you know." Once I clicked my magical slippers (disguised as orange Nike vapors) and took off, there was no stopping me. I felt great and my legs were strong. When I crossed the finish line with a time of 3:45:54, I was elated. My finish time was nine minutes faster than my goal. I couldn't believe it!
I shuffled over to the results tent to verify my time. To my surprise, not only was the time on my Garmin watch correct, but I also learned that I finished as the 13th female overall and second in my age group. I even got a nice award for my efforts. I was so happy.
—
My race report could easily end right here, but I'd be leaving out the most important part of my trip to the Land of Oz. Prior to the race, I ran into a friend at the expo who I had not seen in five years, Chau Smith. I met Chau in Africa and was completely captivated by her. (I chronicled my Victoria Falls Marathon experience in Africa in my book.)
When we first met, Chau was in her mid to late 60s. She and her husband were in Africa to complete a marathon on Continent 6. I was immediately inspired by Chau and her high level of energy. I could only hope to be like her one day, still chasing dreams in my 60s and beyond. Not only did Chau and her husband complete the Victoria Falls Marathon, but they crossed off Continent 7 just a few months later.

Chau's accomplishments do not end there. In 2017, at age 70, Chau ran the Triple 7 (777) marathon challenge: 7 marathons on 7 continents in 7 days. Just writing about Chau makes me feel like a slouch. (Ha!) Hey, Chau! I'm 49 and ran two marathons on two continents in six days. (Uhhh … not quite the same. I know.) That wasn't enough for Chau though. A year later, she ran the Triple 8 (888) marathon challenge….8 marathons on 8 continents (New Zealand is considered the 8th continent for this) in 8 days. Who knows what else she'll do this year?

Nothing like bumping into Heather and Chau to remind you that, "it's not where you go. It's who you meet along the way." No matter how many races I run or the great places I travel to, the best thing about this running journey I'm on is the lifelong friends I've made along the way. I am truly grateful.

I know my journey down the yellow brick road does not end here. I look forward to more experiences, more life lessons, and like Chau – creating and chasing more dreams. There's one more Wizard of Oz quote that fits here, so I'll leave you with the wisdom of L. Frank Baum, the author of the Wonderful Wizard of Oz. It fits my running career and life in general. Have a wonderful day and go experience some of the warm Midwestern weather we are finally having.

Experience is the only thing that brings knowledge, and the longer you are on Earth, the more experience you are sure to get.

Tags: Garmin, Garmin Marathon in the Land of Oz, Kansas, Marathon Mom of 6, Michelle Walker, running, Wizard of Oz, Wizard of Oz Marathon, Yellow Brick Road


Categorised in: Uncategorized

This post was written by Michelle Walker