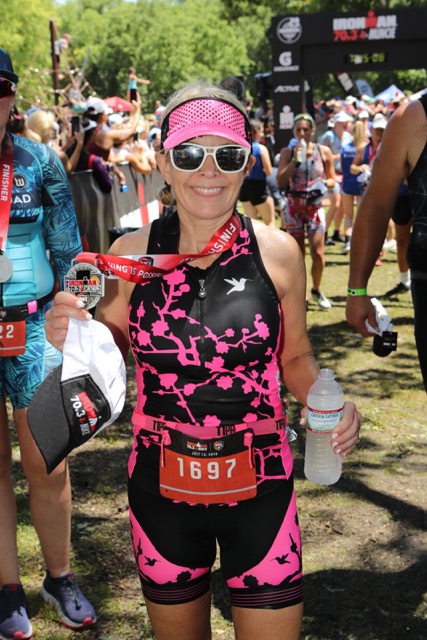 July 18, 2019 8:30 pm
At the beginning of my marathon journey, I learned an important lesson. The sooner you book a hotel for the race, the better.
In fact, I try to secure my lodging before even registering for the race. There are many host cities in which the nearby hotels completely fill up with race participants – leaving little, if any, choices for any late registrants. I plan my race schedule far enough in advance that finding a hotel is usually not an issue.
Of course, I am saying all of this because I added a last-minute race to my schedule earlier this month and ended up scrambling for a room. Suffice to say, this was one of those times where I didn't follow my own advice and got (figuratively) burned for it. The race in question was the Ironman 70.3 in Muncie, Indiana earlier this month.
I've done this particular race three other times in the past. When it comes to marathons, I try not to repeat them. There are too many cool locations around the world to experience and unique 26.2-mile courses to run. However, triathlons are a much different story.
For starters, I am a much less confident triathlete than I am runner. (That's no secret. I said this in the book and have doubled down on the assertion in subsequent blogs.) Plus, there is so much equipment needed for triathlons. The convenience of being able to drive my bike and race gear to a venue outweighs the cost and hassle involved in trying out a new, farther away race. Muncie is a four-hour drive from where I live; so, once again, I found myself back on the road to Muncie. I have a full Ironman coming up later this year, and the desire to get Muncie in as some "training" was strong.
Three weeks before this 70.3 race, when I registered, I could find only one hotel room available – Motel 6 in Anderson. For you non-Hoosiers, Anderson is about 20 minutes from Muncie. Not ideal, but I was thankful to have found anything at all. When I walked into the hotel at 5 p.m., I was ready to organize my gear before meeting my friends for dinner. To my surprise, there were no clean rooms available. I was more than a little annoyed, especially after waiting 20 minutes for someone to appear at the front desk to give me this bad news. Apparently, the front desk clerk was doubling as the cleaning staff. That should have been my first smoking gun.
Since I was given a wait time of 90 minutes, I did not linger. Instead, I headed to the restaurant where my friends from Evansville had planned to meet for an early dinner. Bedtime comes early when you have a 2:50 am wake-up call on race day. (We triathletes are a wild and crazy bunch!)
My "no room at the inn" predicament was quickly forgotten when I arrived at the restaurant. Thanks to the thoughtfulness of my good friend, Kim Townsend, I had a little surprise birthday celebration waiting for me. My Southern Indiana Triathlon teammates and I feasted on a great meal followed by desserts galore. As the group sang "Happy Birthday", I felt much more excited about turning the big "5-0" in a couple of weeks. To be honest, I've been thinking about this upcoming birthday like no other.
When I returned to Motel 6, all I wanted to do was check in and go to sleep as soon as possible, but I had another surprise in store: fire trucks!
I guess this Motel 6 was taking their "We'll leave the light on for you" slogan to a whole new level. While I was gone, the hotel caught fire, burning part of a second-floor wall, window frame, and insulation. It was a good thing I didn't wait around, after all. Apparently, the hotel had been evacuated the entire 1.5 hours I was away. When I finally made my way into the lobby, I was told the fire marshal had deemed it safe to stay at the property, but my room would not be ready for another couple of hours.
Sleeping in my car now became a real option in my mind. Again, thank you to Kim and my fellow teammates for offering me a space in their already-full room. Looking back, I should have taken them up on it. However, I didn't want to impose.
I called Expedia who then had me contact Hotels.com to see if I could get out of my non-refundable, overpriced stay at Motel 6. I figured maybe the fire would be my out, but no such luck. No one seemed to care that I didn't actually have a room to check into or that the hotel smelled like smoke and I had to get up at 2:50 am for a half Ironman race.
To make a long story short, I did get a room later that evening. Big thanks to the Motel 6 front desk clerk / housekeeper for spraying the room with two different substances to camouflage the smoky smell. I was happy to wake up at 2:50 a.m., alive and well. I'm so glad my Motel 6 drama ends there and not with the lyrics of Alicia Keys' "Girl on Fire".
As far as the race itself, I did not exactly set the Muncie woods on fire. However, my goal when it comes to Ironman triathlons is simply to finish, and I accomplished that. I try not to focus on the fact that I usually place in the bottom half of my age group and more on the fact that I'm out there – at age 50 (almost) – doing an activity many people are afraid to even attempt.
My 7th Ironman 70.3 race is in the books, and my 7th Ironman 140.6 race will be here in just two short months. (Heading back to another familiar spot for that: Chattanooga!) I hope to keep challenging myself physically and mentally as I step into this brand new decade of life. If there is one thing in which I have a fiery passion for, it is encouraging people to get out there and move – no matter their age.
I'd like to conclude with a big congratulations to my tiny but mighty "fireball" of a friend, Kim, who completed this smoking hot 70.3 race (literally) with a time of less than six hours. She is as fast as she is thoughtful!
Also, big thanks to Motel 6 in Anderson, Indiana for creating another unforgettable adventure in the life of Mom o' 6. It could've been worse, so I'm thankful that my experience at least led to another now-funny travel story that I get to share with all of you!
Tags: Indiana, Ironman, Michelle Walker, Mom o' 6, Muncie, triathlon


Categorised in: Uncategorized

This post was written by Michelle Walker