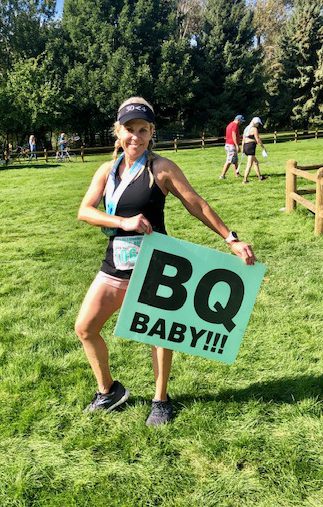 September 17, 2019 2:52 pm
"I did it. I freaking did it."
Those seven words that I want to yell from every mountain top make the rest of this blog anti-climactic, but it's just so exciting.
If you know me, you know that I deflect accolades and try to stay humble. But not this past weekend. It was my time to shine. Why, you ask? I posted a Boston Marathon Qualifying (BQ) time in the state of Idaho. By itself, not the biggest accomplishment. However, as the final piece to a puzzle I thought may never be complete – a BQ is every state – the biggest of deals. I had finally done it.
Growing up as a non-athlete and never quite feeling like a "runner" (even as I write this), I am still in a state of shock that I was able to pull off the "BQ in all 50" feat. The completion of this goal did not come easy. As I chronicled in my book and then with this blog, I had to go back to some states as many as five times. There were times I thought about giving up, wondering if the investment of time and money would ever be worth it.
Those thoughts were amplified as I struggled with my stress fracture with only five states to go. To my dismay, my running times really slowed after my injury. I had to start from scratch, trying to get my marathon race times back to the Boston qualification level. Throwing in the towel became a real possibility. Flying to faraway states like Rhode Island and then flying home disappointed with my race time, seemed like an even bigger waste of effort and money, though there was just a handful of states to go.
Fortunately, my running journey continues to remind me that though I can't always count on my times, I can count on the support of my friends and family. They are the ones I thank for boosting me over the mental and physical hurdles I was experiencing after my injury. They are the ones who encouraged me to get back into the game and finish out this goal. I value them and their support so much!
In particular, I'd like to thank my fellow 50-state marathon friend who surprised me with a pair of "magical shoes." I'm not sure if it was the shoes or the gesture that provided the true magic. Either way, the gift helped get the job done. Once I had those shoes and (more importantly) knew that I had a friend out there who still believed in me, I had a renewed sense of power. With those shoes on, I started knocking off the states I needed, one by one.
Finally, the list was down to one state. Idaho was not a new enemy. I had run marathons there several times before but couldn't quite leave with the time I needed. For some reason, this state (as well as Alabama and Rhode Island) proved to be my nemesis. Although I've grown fond of the Potato State, it's not exactly easy to travel to from Indiana.
When I boarded my second flight on my way to the inaugural Jack and Jill's Downhill Marathon in Boise, I was elated to see a familiar face: Sandy Gage. She is one of the many runners I have come to admire through the years. I met Sandy on a marathon trip in Africa. We were both on a mission to run a marathon on each of the seven continents. I was immediately impressed by Sandy's high-energy and sense of fun. Plus, not only is she an accomplished marathon and ultramarathon runner, she is a highly successful businesswoman and mother of four.
Since meeting her five years ago, I have admired, from afar, how Sandy seems to balance everything in her life with beauty, confidence, and poise. I even catch myself thinking, "How would Sandy handle this?" in certain situations. So, the fact that I was randomly running into her – for the first time in five years -gave me a good feeling about the weekend to come.
The next person I met in Boise was my roommate for the weekend, Cathy Bradford. It is always a treat to spend time with Cathy. She is another runner on the marathon circuit who's on my most-admired list. She's made appearances in my book and blog. Not only has she been a great friend to me throughout most of my marathon journey, she has accomplished some amazing feats in both the running and professional worlds. Like Sandy, she makes the balancing act of life look easy.
There were two other marathon runners who I admire so much that I've written about them (either in my blog or book) who were also in Boise for the race. They are both in the superfast category: Suzy Seeley and Sally Boles. I can't say enough positive about either one, but I do have one negative to say about both: They beat me in this marathon by a landslide. Ummm… thanks, ladies. Ha! Your finish-line greetings were the best though, so I guess I'll let it slide.
I truly felt the stars aligned during this trip to Idaho. I was confident and ready; seeing Sandy, spending time with Cathy, Suzy, and Sally. It was all perfect. Then the race started. It was hot, but I wanted to put time "in the bank."
Funny, you'd think after 170+ marathons, I'd have this figured out. But at Mile 20, it was all catching up to me. The 90-degree weather, my depleted energy – and a calf cramp so intense it made me cry out in pain. My last six miles must have resembled a death march to the finish. I found myself fighting back tears, thinking I probably was going to miss my time goal in Idaho. Again.
However, as I inched closer to the end, I stopped feeling sorry for myself and started pushing as hard as I could. I knew I was right on the cusp of a BQ time, and if I fell short, it wasn't going to be for lack of effort. This was worth the fight. I tried not to look at my watch, just focusing on the final miles, giving it my best.
When I crossed the finish line, I heard a booming call from the heavens, "Michelle Walker. You have qualified for Boston."
What?!? Was it true? Trying not to get my hopes up, I headed for the official timing tent. I was so nervous, almost to the point of nausea. I punched my bib number into one of the official race time kiosks.
Boom! I did it. I freaking did it!!!
With only 44 seconds to spare, I posted a BQ time in State No. 50! It is surreal for me to even write this. Through a lot of persistence, I have now posted Boston Marathon qualifying times in every state. It was truly an American adventure, and on its last weekend, everything fell into place for me. I am thankful to God for that.
I would like to thank my family, especially my husband, Allen, for their support through this journey. I also thank each one of you for taking the time to read about it here and following me on social media. You know I am a goal setter. We can all set and achieve lofty goals. It may take a long time and a lot of determination, but the reward of completion is always worth it.

As for me, I'll keep running and goal setting for sure, but there will be a short break. The Walker Family has a wedding coming up in a few days. Congrats to my oldest, Brett, and his beautiful bride, Abbey. We can't wait.

Tags: 50 states, Boston Marathon, BQ time, goalsetting, Idaho, Jack and Jill Downhill Marathon, Marathon Mom of 6, marathons, Michelle Walker, running


Categorised in: Uncategorized

This post was written by Michelle Walker