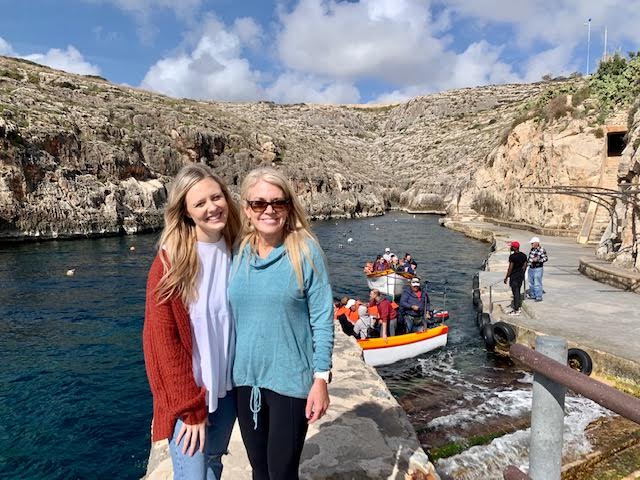 March 5, 2020 2:20 pm
If you've read my book or this blog before, you know that most of my international marathon trips have been surprise gifts from my husband. I am extremely grateful to Allen for his thoughtfulness and generosity. He totally gets that I would rather travel than get a material item, and I am lucky he is so supportive of my love of running and travel.  
Last summer (when I turned the big "5-0"), I opened up my card from Allen. Inside was a printout of Vienna (Austria) Marathon's homepage. I knew exactly what that meant and was ecstatic. This race is held every April, and is known worldwide for its flat, fast course. Since my third child, Madeline, would be studying abroad in England during the time of the race, Allen and I both thought she could meet me there. It was a perfect idea: a reunion with Madeline and another European marathon. (Austria would make European country No. 11, or so we thought!)
Things don't always go as planned, of course. As soon as Madeline checked her study abroad schedule, she realized she had a conflict that weekend. So, the original plan was out, but we still wanted to find a way I could do a European trip with our wonderful daughter. When we stumbled upon the Malta Marathon date, I could not have been more excited. The date of this race worked for both of us!
Malta is a small island that sits in the Mediterranean Sea between Sicily and the coast of Northern Africa. It is made up of about 400,000 warm, friendly people who speak to one another in what I would call a pigeon language – a base of Arabic with a little Italian, French, and English sprinkled on top. The Walker family actually briefly visited Malta's capital city of Valletta about 10 years ago during a cruise, and it remains one of my favorite places. 
The ancient (5,000 B.C. and older) ruins throughout the island, combined with the Roman walled cities and the breathtaking coastline is a sight unlike any other. It truly is a unique place. From what the locals were telling me, I am not the only one who finds Malta appealing. Tourism has exploded there in recent years. I'm glad Madeline and I were visiting during the offseason. I'm sure it gets quite crowded in the summer.
The downside of this wonderful destination is the travel time it takes to get there. It's an about a 24-hour trip each way, to and from Evansville, Indiana. You might think I'm crazy to go through that length of travel for just a three-night stay.  However, in the great balancing act of motherhood and life, it is my only option right now to get to spend time with Madeline, and I'll gladly take it!
Making sure I get the most of these short trips requires a lot of pre-trip planning, though. I always want to hit the ground running (literally – ha!). I am happy to say, thanks to two phenomenal local guides, Madeline and I managed to see all of the major attractions in Malta in just two days.
Of course, I was also on this trip to run the Malta Marathon. I cannot say enough positive things about the race. It certainly exceeded my expectations. The race was so well organized, even though it's a much bigger event than I had imagined. Knowing the topography of Malta – plenty of short, steep hills – I wasn't expecting a fast race time. I was more than happy to complete the race in 4:01:42. Not one of my faster times, but considering the jet lag and the heat, I'll give myself a pat on the back.
Our short trip did have one big hiccup. … You guessed it … Coronavirus! (or at least the building fear about it). There was no travel alert in Malta, and I knew the Malta airport, as well as the race itself, had taken some extra precautions to prevent the spread of the virus to the small island.
Still, with Italy being so close to Malta, I was certainly worried. I did a lot of praying during the week leading up to my quick adventure across the pond. Based on the news coverage of the virus, I was expecting to see airports filled with people with masks and looks of panic on their faces. However, it was business as usual in Detroit, London (where I met Madeline), and Malta. I dare even say it was kind of nice to get a break from the Coronavirus hype while I was abroad. I'm not going to bash the media on this. I'm sure they portray the facts and nothing but the facts (insert eye roll).
For me, the Coronavirus situation is a good reminder to be cautious, but not to live in fear. I would have missed one of the greatest weekends of my life had I canceled my trip and quarantined myself in Indiana. This Mum o' 6 is so grateful to have had a reunion weekend with her daughter.
It was heart wrenching when we had to go our separate ways in the London airport – Madeline to her school in England and me to Detroit. In fact, I'm getting teary-eyed as I write this. However, I will always cherish that short time we had together. It was certainly worth the 48 hours of travel!

Thank you to Allen for yet another adventure, as well as to Madeline (my brave English resident) for sharing this experience with me. I appreciate everyone who took the time to read about my Malta trip. Stay safe and keep washing those hands!

Tags: Malta, Malta Marathon, Marathon Mom of 6, Michelle Walker, Mom o' 6


Categorised in: Uncategorized

This post was written by Michelle Walker